Christian Science Reading Room
Open Weekdays (closed on major holidays)
Monday through Friday: 10:00 a.m. to 5:00 p.m.
Closed Saturday and Sunday
(805) 966-4007
Parking: Use City lot 5 on Chapala (while driving Northwest) between Anapamu and Victoria Streets and walk one block to State Street on Victoria Street.
The Christian Science Reading Room is located at 1301 State Street at the corner of Victoria Street in Downtown Santa Barbara.
You can buy Bibles, Science and Health with Key to the Scriptures, and other works by Mary Baker Eddy. We offer a variety of hardcover, paperback, children's books, audio and Christian Science periodicals in different languages. There are calm and peaceful study areas in the Reading Room where you can read, research, listen to CDs, or quietly pray in air conditioned comfort.
You are welcome to come in and browse on your own, or the staff will be happy to help you.
Prior to moving to our present location, the Reading Room was located two blocks away at La Arcada Court. In 1949, there was a block of property at State and Victoria Streets, consisting of three parcels measuring slightly under sixty-five feet of frontage and a hundred feet in depth. The church membership decided to purchase the corner parcel for a new Christian Science Reading Room.
Kem Weber, an internationally known architectural designer, was engaged, in association with Roy W. Cheesman, a Santa Barbara architect, to prepare plans. The aim of the designers was, as an article in the Santa Barbara News-Press later recorded, "to form a unit with the neighboring Fox-Arlington Theatre" and to build in "harmony with Santa Barbara Spanish architecture." A single story with vaulted ceiling was agreed upon, and two years later in October 1951, the Reading Room opened.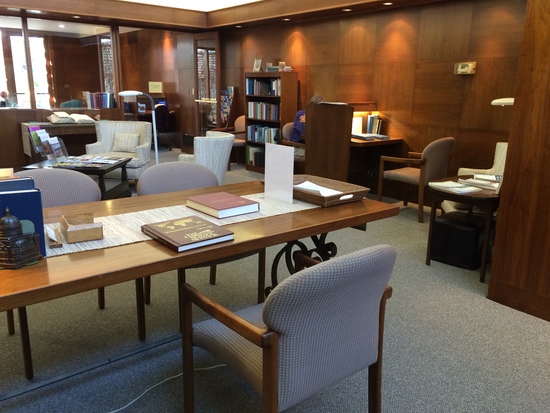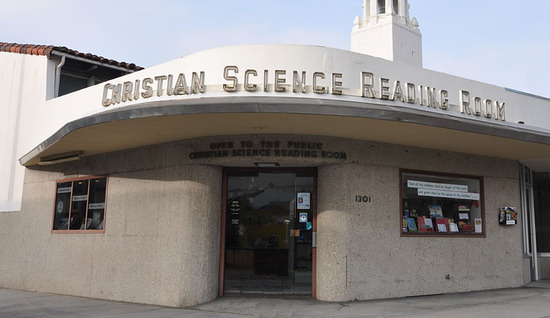 The building is a mid-century modern structure with red tile roof, streamlined curves, and an artistically designed corner entrance. The exterior's lower portion is bush-hammered reinforced concrete, which gives an interesting texture. The upper portion of the exterior is white plaster.
Kem Weber participated both as designer and decorator in the interior which rises two stories to a vaulted ceiling with exposed beams. The squares of black walnut paneling become a high wainscot in the main reading room, with acoustical plaster above, insuring quiet. Study carrels and cabinets are of the same wood. Also built-in is a filing cabinet with index to all Christian Science periodicals from the early issues to the present. The original plan of the rear garden room provided a ceramic floor and a drip fountain. A flower planter divided this area from the main room.
Soon after its completion, the Reading Room won a plaque from the City commending it as "one of the outstanding buildings in Santa Barbara." Some minor alterations were made in the 1970s. In 1978 the Reading Room was added to the list of Santa Barbara Historic Structures.