Monday – Friday, 9:00 a.m. to Noon
All children are welcome from ages 3-11 Cost: 1 child $45, 2 for $80, 3 for $105, 4 for $120
Bible Discovery Camp is a week-long, 9:00 a.m. to noon camp for children of ages 3-11 that revolves around a carefully coordinated Bible-themed curriculum. Our purpose is to provide a joyful opportunity for the children of our community to share an inspired application of the Bible. Children visiting the area are also welcome.
The hours are filled with singing, age appropriate group study of carefully chosen Bible stories, arts and crafts, games, and individual time for reflection during a prayer walk. A break and a healthy snack are provided mid-morning.
During the last hour of camp on Friday the children put on a presentation for family and friends of what they have learned that week. Refreshments immediately follow the presentation, giving everyone the opportunity to make new friendships and share inspiration from the week's activities.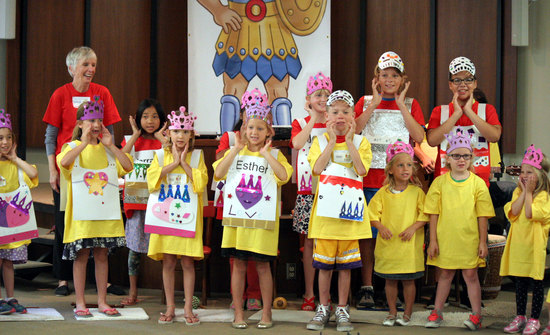 "And all thy children shall be taught of the Lord, and great shall be the peace of thy children." Isaiah 54:13
Bible Discovery Camp Themes
2014 THE 5 G's – God, Good, Guides, Guards, Governs (July 21-25)
2015 The Armor of Love – The Lord's Prayer (June 15-19)
2016 Traveling with Moses from captivity to freedom – The 10 Commandments (June 13-17)
2017 Journey with Jesus – The Beatitudes – Big with Belssings (June 12-16)
2018 God and me, Psalm 23, Seeing our True Identity (June 11-15)
2019 Safe in the Ark (June 17-21)
Through acquaintance with Bible characters and songs, Bible Discovery Camp offers ways for your child to discover and remember how God's love is always present, protecting and guiding. A grateful parent offered that children learn how to:
Children are precious to us and so is their safety. All children are safely supervised by a minimum of two pre-screened adults at all times. Children must be signed in and out each day by a pre-authorized parent or adult on the registration list. Once a child is signed in, that child remains with their assigned Camp Guide and Camp assistants until their authorized adult checks them out.
Pay for Bible Discovery Camp via PayPal
1 Child @ $45
---
2 Children at $80
---
3 Children at $105
---
4 Children @ $120
---